Indianapolis Jury Finds Alabama Couple "Not Guilty" of Neglect of a Dependent and Public Intoxication
February 23, 2018, Indianapolis, IN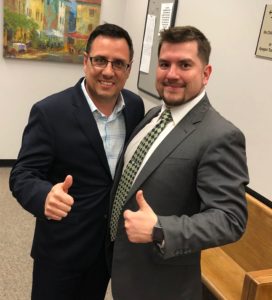 After deliberating for less than 20 minutes, an Indianapolis Jury found Michael Trosclair and Shari Tremba NOT GUILTY of all crimes charged. The Marion County Prosecutor's Office had filed felony charges on June 19, 2017 alleging that Trosclair and Tremba were intoxicated in public and neglectful of their seven-month-old child.
Following their vindication, the couple release the following statement:
After 263 days of silence and public shame, we are grateful for the verdict of 'Not Guilty.' This verdict contributes to our continued healing from the loss and emotional pain caused by this incident. We now look forward to expressing the true story of who we are and what happened.
Evidence presented at trial showed that Trosclair and Tremba had been in Indianapolis for a financial industry convention. They'd been accompanied by two caretakers charged with caring for the seven-month-old while the couple networked with other professionals and convention attendees.
On the night of Trosclair and Tremba's arrest, the group had eaten dinner, participated in convention activities, and taken a walking tour of Indianapolis. While walking past a downtown bar, Trosclair had learned that a business partner was inside and had gone inside to say hello. The seven-month-old child was outside the bar with Tremba and the two other adult caretakers.
While Tremba and the others were waiting outside, one of the bar's patrons had called 911 and reported neglect. At trial, eyewitness testimony contradicted the 911 report. "Neglect" turned out to mean consumption of a single 10-ounce beer. The person who had served Tremba testified that she hadn't been intoxicated at the time.
After police had arrived, Tremba had become upset because officers told her they were taking her babyto the hospital to be checked out. When Trosclair had emerged from the bar to find Tremba arguing with police, he'd quickly become alarmed as well.
Trosclair was arrested for public intoxication, based on his irregular gait and his repeated demands that he be allowed to take his family back to their hotel in an Uber. Tremba was also arrested.
The Marion County Prosecutor's Office filed Level 6 felony neglect of a dependent charges against both Trosclair and Tremba. A Level 6 felony is punishable by up to two-and-a-half years in prison. The State tacked on an additional charge of Class B misdemeanor public intoxication, punishable by up to 180 days in jail.
Following a two-day jury trial, the couple was completely cleared of any wrongdoing.
The attorneys of the Marc Lopez Law Firm fight back against criminal charges. They know how easy it can be to end up in the wrong place at the wrong time, and they understand how challenging it can be to prove you're not guilty.  If you or a loved one is facing criminal charges, help is only a phone call away.
The Marc Lopez Law Firm can be reached at 317-632-3642, and remember—always plead the 5th!