Expunge Your Criminal Record!
Indiana Law allows a person to remove their convictions from public record.
If you would like more information about expungements please email us.
Did you know that anyone with internet access can see a person's Indiana criminal charges and convictions? This can be done through mycase.in.gov, where the State provides free public access to court records, including past and present criminal charges.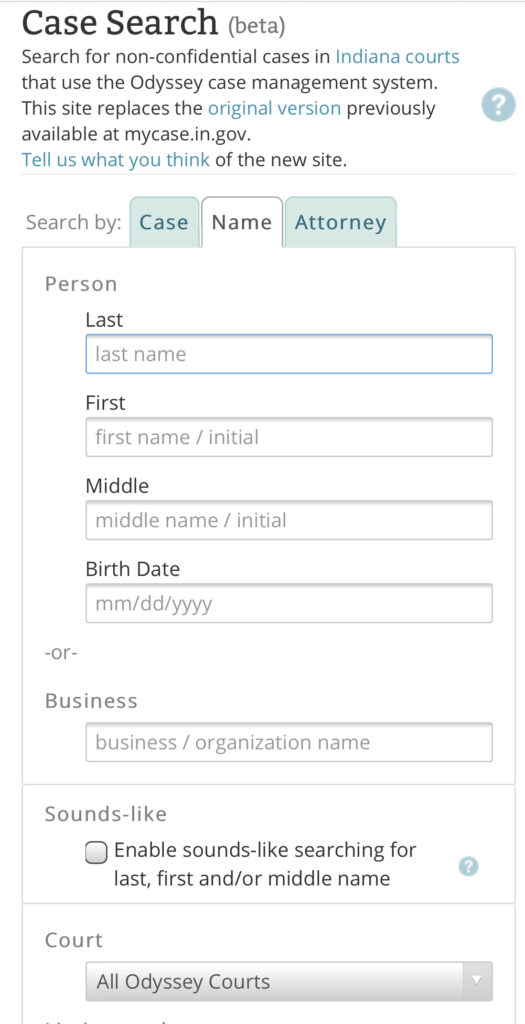 MyCase.in.gov is where the public can access past and current court records.The fact that criminal records in Indiana remain available indefinitely makes it difficult for anyone to leave their criminal past behind—even after many years have passed.
According to recent estimates, 87% of employers conduct a criminal background check on at least some of their job applicants. Some will repeat this process before granting a promotion. The State has 48 different occupational licenses (including nurse, pharmacy tech, real estate appraiser and dental hygienist) that require a criminal background check. Leaving employment aside, the youngest members of my staff have been known to use mycase.in.gov to vet prospective sweethearts. My wife has even performed background checks before allowing our five-year-old to be left in the care of her friend's parents.
The problem doesn't end with nosey bosses and neighbors. Personally speaking, I had to pass a screening just to be allowed to volunteer my time with my daughter's Girl Scout troop. Criminal convictions can even prevent you from adopting a child or legally possessing a firearm. Even though we all understand that everyone makes mistakes, our society seems institutionally opposed to the idea of forgiving and forgetting. This strikes me as both unfair and unwise.
Thankfully, the State of Indiana offers at least one workaround for people burdened with criminal convictions—the process of expungement.
If you would like to learn about your expungement options give us a call at

317-632-3642

, or
send us an email.
What does it mean to have your criminal record expunged?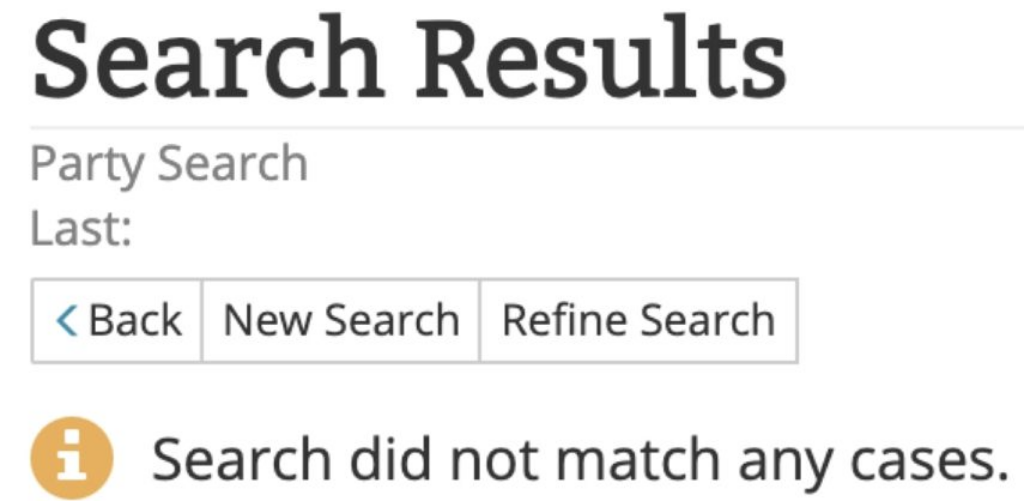 On job applications, where it asks about criminal history, you can mark NONE. This significantly minimizes your risk of being stigmatized based on past mistakes. 

Expungement applies to convictions and arrests, so you can likewise mark NONE if your application wants to know about any time spent in jail.

All mention of criminal history will be removed from your Indiana BMV record. This is a big deal if you're currently unable to get the job or insurance rates you want. 

Occupational licenses that require background checks will become easier to obtain, allowing you room for professional growth without unreasonable restriction. 

If a past conviction was interfering with your Second Amendment rights, you'll be allowed to legally possess firearms going forward. 

You won't have to worry about a background check preventing you from volunteering your time with certain organizations.

If your worst mistakes are no longer catalogued on mycase.in.gov, that means you're a lot less vulnerable to snoops and busybodies. 

Few things can inspire hope like a second chance. Expungement truly allows you the opportunity to move on from past mistakes and start fresh. 
If you would like more information about expungements please call us at 317-632-3642 or email us. 
My name is Marc Lopez, and I'm a criminal defense attorney. I love my job, and I've loved it ever since I opened my own firm on July 2, 2009. If the popular conception of lawyers is that they hate their work, then consider me the exception to that rule. My firm is in its 11th year of operation, and even with nine other individuals to share the workload, I'm still frequently the first in and last out at the office. If this seems excessive, please know that it's not because I don't trust my amazing associate attorneys and support staff—it's because I honestly love what I do. I'd like to think at least some of that love shines through in my work.
The fine print?
The devil, as they say, is in the details. A misdemeanor is eligible for expungement five years after the date of conviction. A felony reduced to a misdemeanor is eligible for expungement five years after the date of reduction. A Level 6 (or Class D) felony is eligible eight years after conviction. Your attorney needs to file separate expungement paperwork in each county of conviction, and all filings must occur within one year of each other. Perhaps most importantly, you can only expunge your record once. 
Expungement is a game-changer for anyone trying to move on from a criminally-checkered past. The removal of criminal convictions from free and open websites and official State background checks can open many doors you may have thought were permanently closed. This includes privileges related to employment, volunteer work, handgun possession, and even adoption. If you have any questions, give us a call at 317-632-3642, or send us an email.