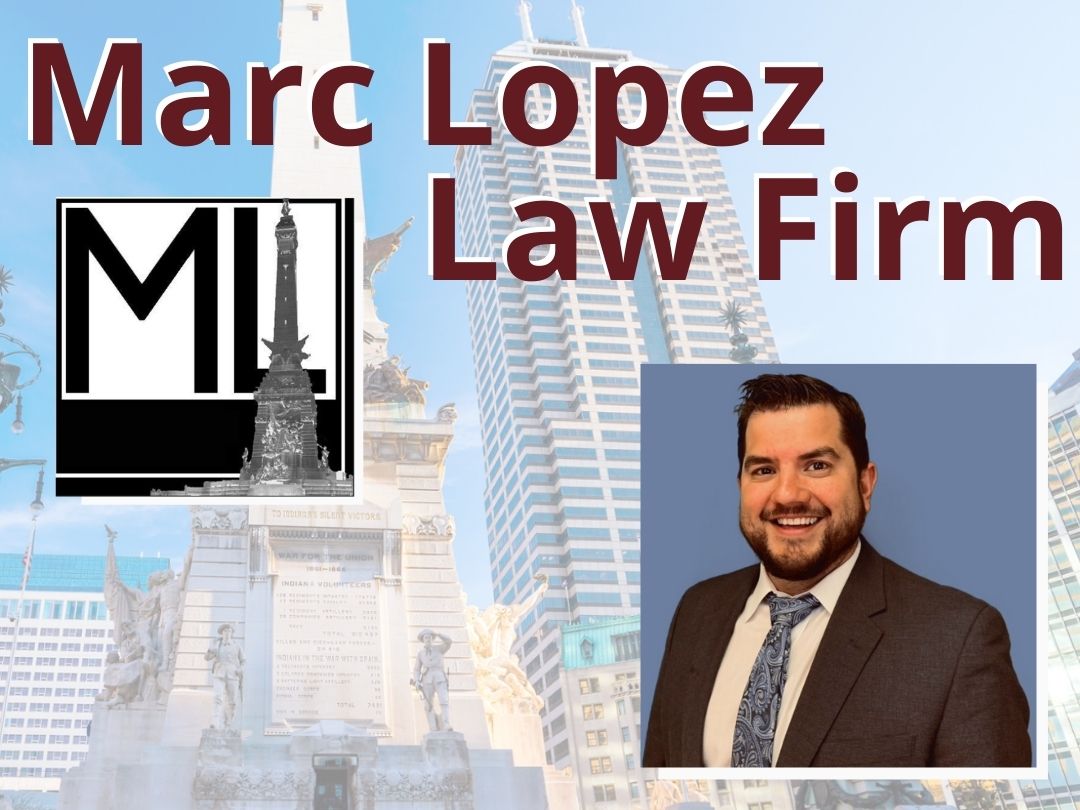 Click the button
below to get your
Free

DUI / OVWI
Special Report

Top Rated Trial Attorney on Google and AVVO
Top Rated Trial
Attorney on
Google and AVVO
CONTACT US!
Marc Lopez Law Firm
317-632-3642
Downtown Office:
120 E Market Street, Suite 710
Indianapolis, IN 46204
Northside Office:
8435 Keystone Crossing, Suite 250
Indianapolis, IN 46240
OFFICE HOURS
Business Hours: Monday – Friday
8 a m- 6 p m
What Others Are Saying:
"The firm was great! Marc, Zac, Matt, and everyone in between made everything really easy. They were very receptive to all of my concerns, and they moved swiftly throughout the whole process. I initially had a public defender, who did not have my best interests in mind, nor did they communicate whatsoever. Gaining the Marc Lopez Law Firm as the legal team on my case was the best decision I could have made . . ."
– Kim M., January 2023
"Smart, knowledgeable, hard-working experts, that represent you like a best friend."
– Scott W., December 2022
"My personal experiences I've had with Marc Lopez Law Firm have always been outstanding. He gets the job done and more. If it wasn't for him and his colleagues, I would have never been able to work, let alone start a family. Very likable guys as well. I highly recommend Marc Lopez for anything . . ."
– Keith M., December 2022
"These are the guys to go with if you ever find yourself in a pinch! I appreciate their work."
– Braedon L., December, 2022
"Marc and his team were so helpful and kind. What a pleasure to deal with!"
– Gabriel B., December 2022
"Prompt and willing to work with you in every aspect regarding case and payment. I highly recommend if in need of representation."
– Jimmy T., December 2022
"Marc and his staff are very responsive and thorough. I've never had a lawyer reach out to me personally and put me at the top of their list.
I recommend anyone looking for a lawyer to utilize Marc and his staff.
Professional, results driven and clients first."
– Ty E., December 2022
"I had a great experience with Attorney Benitez. He helped me with my OVWI. He is a great attorney and I greatly recommend him. Along with his assistants."
– Paco C., January 2023
"I truly loved how I was represented and love the support and cooperation of everybody . . ."
– Steven A., December 2022
"Brilliant legal minds abound at this Firm. Marc and Matt are superb lawyers, excellent strategists and all-around good people. They're always available to explain legal processes and actions in a way that's easy to understand, honest and with a very positive attitude . . ."
– Dust D., December 2022
"Was fast to respond and quick to help. In a tough time, they made it a pleasant experience as they could to help out! Highly recommend"
– Jones K., December 2022
"Working with the Marc Lopez law firm was easy and very helpful. I am lucky to have found such a good attorney through this law firm. Thank you for your guidance!"
– Alexis, November 2022
"Marc Lopez Law firm has exceptional people working there. Attorney Jamison Allen and Charity worked diligently on my case. They were great with follow through and returning phone calls and emails quickly. I was very pleased with them and the outcome of my case."
– Jill S., August 2022
Get Help Now!
Need help? Have Questions?  Fill out the quick contact form and we will be in contact soon! 
{2017} Thrive Landing Pages. All rights Reserved | Disclaimer