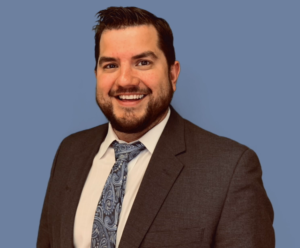 If Attorney Marc Lopez could only use two words to describe his primary professional motivation, those words would be helping people. The only thing that makes him happier than assisting others is fighting injustice, and as a criminal defense lawyer, Attorney Lopez is able to combine his two passions into a single career.
In the words of your high school guidance counselor: "Choose a job you love, and you will never have to work a day in your life." Measured by this standard, Attorney Lopez is always on vacation.
Before opening his own practice to begin his project of making the world a better place, one criminal defendant at a time, Attorney Lopez worked the other side of the fence. As a deputy prosecutor in Marion County, he handled thousands of criminal cases, many of which went to trial. This provided him with an invaluable foundation of courtroom experience. During his time as a prosecutor, he learned the hard way to spot potential weaknesses in the State's case.
Perhaps more importantly, he now has the skills to exploit those weaknesses for the benefit of his clients. Attorney Lopez firmly believes in every citizen's Constitutional rights, and those rights include the right to a fair trial for every criminal defendant. In order for a trial to be fair, a defendant needs to be represented and advised by an experienced and capable attorney. Marc Lopez is that attorney, and he is ready to help you.
Not content to limit himself to criminal defense work, Attorney Lopez also has years of experience in personal injury litigation. He has helped clients who were hurt on the job, seriously injured in an automobile collision, or otherwise damaged by another's carelessness or negligence.
Attorney Lopez knows how to handle these cases from a legal perspective, but he also understands the emotional component of personal injury work. He is intimately familiar with the feelings of humility and helplessness that can follow an unexpected injury. If you have been hurt in an accident, you need an attorney with both the experience to get the job done and the sensitivity to recognize your particular needs. Marc Lopez is that attorney, and he is ready to help you. Contact Attorney Lopez at 317-632-3642 or by email.
What Others Are Saying:
"Marc was very upfront and forthcoming, providing more information than expected when I first contacted him about handling our case. We hired him immediately and the case was handled from beginning to end with professionalism by Marc and his colleagues. We were kept informed during the entire process and questions from us were promptly answered. Best of all the case was resolved and concluded as promised. Great work and would hire again."
-Lisa K., June 2023
"Very good lawyer highly recommended."
-David E., June 2023
"Marc and his team did an outstanding job handling my case. Always available when you need them and attentive to your current situation (legally and personally). I appreciate all the hard work! Highly recommended!"
-Dave R., June 2023
"Man o man. I got myself into a situation. I was scared and didn't know what to do. My mom reached out to Mr. Lopez and he talked with her and showed immense compassion and care. He calmed my mom's nerves and assured her they would have my back. They did just that. They got me the best possible deal I could ask for, helped me along the way, and always were there for me . . ."
-N.J.D., June 2023
"I called on a Sunday and was instantly called back within minutes by a well spoken, straight to the point, easy to talk to, Mr.Lopez. I suggest giving him a try." 
-Eric B., May 2023