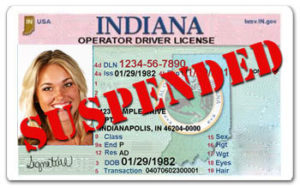 In the State of Indiana, all motorists are REQUIRED to carry valid insurance. The minimum requirements for insurance coverage is $25,000 per person and $50,000 per accident and $10,000 for property damage. If you talk with an insurance agent, they will likely know this policy as the minimum 25/50/10 policy.
However, life gets busy sometimes and people may have their insurance policies lapse, in other words, their insurance policy gets cancelled for one reason or another. If someone is charged, or pulled over, with operating a vehicle without insurance, the BMV can impose some pretty hefty penalties. Perhaps the most inconvenient penalty is that the BMV can suspend your license for failure to provide insurance, should you be pulled over, for a period of 90 days and up to 365 days.
Not being able to drive for 365 days, or even 90 days for that matter, can disrupt one's life. Without being able to drive, the average adult has no way to earn an income or be an active parent to their children. Luckily, specialized driving privileges are available in this situation. If your license is suspended for failure to provide insurance or driving without insurance, call the attorneys at the Marc Lopez Law Firm and learn how WE can help YOU get your freedom and independence back. Call us today at 317 632 3642.