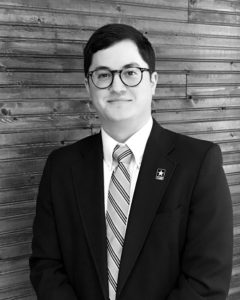 With the addition of Luke Wingo, the Marc Lopez Law Firm is now four attorneys strong. Attorney Wingo hails from South Carolina, with a career focus on criminal defense. A true southern gentleman, Attorney Wingo strives to practice holistic legal representation, combining aggressive advocacy with a comprehensive understanding of his clients, their families and their circumstances.
Prior to joining the A-Team, Attorney Wingo clerked for the Honorable Frank Addy, Jr., one of forty-six resident Circuit Court Judges in the Palmetto State. As a Judicial Law Clerk, he researched matters both criminal and civil and formed a practical familiarity with the process of drafting judicial orders and opinions. This experience also obliged him to communicate and coordinate effectively with court staff and private attorneys, basically serving as a primer on courtroom efficiency.
While working toward his B.A. from Wofford College in Spartanburg, South Carolina, Attorney Wingo was simultaneously commissioned as an officer in the United States Army Reserves. He went on to earn his J.D. from the University of Tennessee College of Law, excelling in the Criminal Advocacy Clinic, the Immigration Law Clinic and the Education Law Practicum. The Indiana Bar Association currently holds him in good standing, and Attorney Wingo is likewise licensed to practice in his home state.
Perhaps most notably, Attorney Wingo exhibits his personal integrity by remaining a firm supporter of Tennessee Volunteers football. When he's not busy flexing his legal muscles or demonstrating his unwavering loyalty, Attorney Wingo enjoys traveling, spending time in nature, and exploring the culinary arts.
If you're in need of dynamic criminal defense, contact Attorney Wingo and the rest of the team at the Marc Lopez Law Firm at 317-632-3642.